NSW ALP Mark Buttigieg's Order for Papers for the NIF Passes Legislative Council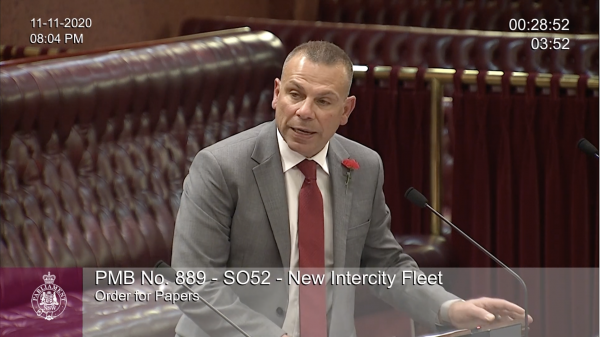 At a meeting of the NSW Legislative Council on Wednesday 11 November, NSW Labor Member Hon. Mark Buttigieg spoke in parliament on the Order for Papers concerning the New Intercity Fleet (NIF).
During the debate, Mr. Buttigieg slammed the Berejiklian Government for repeated failures in many aspects of manufacturing, safety and operation, and how these failures have exploded the budget by $1 billion.
He also emphasised the perspectives of transport workers, highlighting to those present that around 90% of transport workers surveyed would not staff the fleet due to harrowing safety concerns.
The Order was passed at 24 Ayes and 17 Noes.
This means the NSW Government will be required to produce the documents as outlined in the order for a parliamentary standing committee.
Locomotive Divisional Secretary, Robert Hayden, has responded, saying:
We will continue to seek ways to hold NSW Trains, Transport for NSW, and the State Government accountable for their decisions and explicit disregard of the views of their employees.
Click here to view the Parliament Hansard documents on the NSW Parliament website or download a copy here.
Click here to download a copy of the Resolution papers.