Loco Express: Division President's Message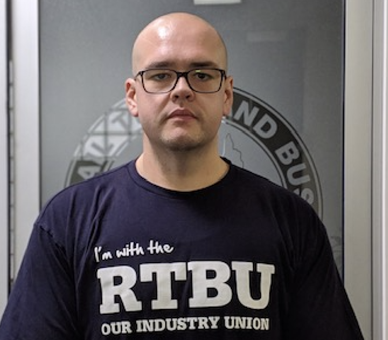 Dear members,
This past week has revealed a change in government plans for the working people who carried our country through the pandemic.
The Federal Budget was a huge missed opportunity. As the ACTU pointed out in its response, this big spending budget will mean nothing if it does not result in more secure jobs and better pay that leads to more spending and stronger rights for working people.
Meanwhile in NSW, the Berejiklian Government has disrespected public sector workers who have helped our communities through the pandemic, by announcing a 0.3% wage rise. With national inflation at about 1.43%, this means the state's more than 400,000 public sector employees, including RTBU members, will be forced into what is effectively a pay cut.
We recognise these are challenging economic times – but taking money out of the pockets of workers in the name of reducing a long-term budget deficit just doesn't make sense.
Governments won't breathe life back into our economy if workers don't have the money from fair wages and the good, secure jobs that give them confidence to spend it.
Amid the chaos that is state and federal politics, the Division continues to be very busy dealing with the many NIF issues and disputes currently on foot stemming from NSW Trains' stuborn approach to defending their new train and it's unsafe operating model.

Our hardworking members, delegates, organisers and legal officers continue to fight tirelessly to bring to light the truth about the NIF and ensure a safe train and operating model is delivered for members.
As a direct result of Fair Work proceedings, the OIM Group will be given further access to the NIF to view testing of OIM documents on the train. Members of the group were able to view the testing of procedures today and on 14 October time trials will be conducted for driver and CSG cut in, driver change ends, termination and empty out, driver over carry check, train preparation and stable.
During the NIF Classification Dispute, as members will recall, the RTBU lost the first instance decision regarding NSW Trains' ability to introduce the new classifications of "Intercity Specialist Driver" and "Customer Service Guard".

However, we are appealing this to a Full Bench of the Fair Work Commission. We have now been given an Appeal hearing date of 20 November 2020 and have engaged barristers to put our best fight forward.
In other NIF news, the pilot training program which was clearly not ready or fit for purpose had to be cut short to allow the necessary work to bring it to a safe and adequate standard.

The training has been described as an "unmitigated shambles" by some close to the course but if you read the rhetoric from management you get a different story. The buzz words and marketing spiel paint a vastly different perception from the reality. Good work from the delegates and members involved for their honesty and willingness to tell the truth. It is hoped more will.

The Division would also like to acknowledge a group of hard-working activists and delegates at Central who have recently created a monthly depot newsletter. This great initiative is keeping members informed of local issues as COVID-19 restrictions continue to make large meetings difficult. The first issue is floating around depot meal rooms now. Well Done.
The Loco Division recently travelled to Parkes for delegate training with 8 delegates from various depots undertaking level 1 delegate training. It was a big couple of days, but training was well received with delegates keen to take their news skills back to the depots. This training is part of the division's ongoing plan to develop delegates and build union power in the workplace
In other news, PN members covered by the "Outsourced" Agreement recently endorsed the commencement of a protected action ballot and will commence the formal vote on "Types of Action" shortly. This is a reminder that voting for the Protected Action Ballot is nearing the end so please remember to make sure you have your say. It is time for everyone to stand up and vote YES for every action on the PAB to show Pacific National that you are not happy.
Delegates and Organisers continue to consult with PN Coal on a number of issues including rostering for local jobs after barracks, Mudgee barracks, Mudgee line Qualifications and Werris Creek Restructure.

In some COVID-19 related news, the RTBU Locomotive Division, as approved by the Divisional Council, has sourced a further 2300 RTBU washable face masks for members.

We also want to make sure we see you wearing them! Send us a photo at nswloco@rtbu-nsw.asn.au for Loco Express.

We hope you enjoy this edition of Loco Express.
In Solidarity,
Farren Campbell
RTBU Locomotive Division ​President